Kicks and Giggles BOUNCES the competition … hands down!!
Our customers agree – for the best value AND quality in outdoor party rentals for kids … It's Kicks and Giggles!!
Why Choose Our Bounce Company?
Don't trust your outdoor party or event with just anyone! While we strive to offer the best value in North Carolina for inflatable rentals, our quality, service, and commitment to the safety of our customers and their children are among the many other reasons why our customers choose us. Here's why you should, too!
We wanted to rent an inflatable moonbounce and maybe a slide for our twins' birthday party. K&G saved us by recommending the 5 in 1 Castle Combo. Two for the price of ONE! AWESOME PARTY IDEAS…better deal!!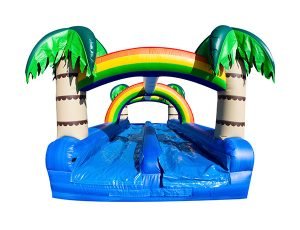 We are parents too! Whenever we host a party or get together, we use the same inflatables we rent to you. We would never let our children or family play in unsafe or dirty inflatables, and we feel the same concern for your children and guests.
Liability insurance is the No.1 expense of any inflatable rental company. Many area rental companies choose to operate without it, rolling the dice to save expense, and to offer cut-throat pricing. Not us. Signature Event Solutions, LLC follows accepted industry practices and carries a $2,000,000 general liability policy. This policy allows us to use indoor facilities that require proof of insurance, such as local school systems and corporate organizations. We are happy to provide you with a certificate of insurance upon request. ALWAYS ask for a certificate of insurance for your event!
We are always friendly, professional, and honest. We WILL arrive on time. We make your rental easy and worry-free.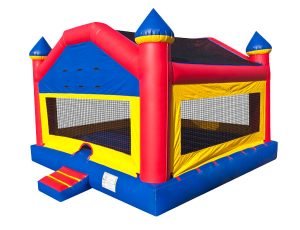 We can provide customized rental packages based on multiple items in order to decrease your cost. If your organization is working with a fixed budget, we will always do our best to accommodate you!
You don't have to "PICK-UP" our rental equipment to receive the best price! Inflatables are HEAVY! Kicks and Giggles will not leave the safety of your guests to anyone other than our own trained personnel. Simple as that!
We have multiple crews. Others offer only themselves without any back-up for emergencies, or merely "DROP OFF" their rental equipment. Again, we deliver, install, and remove every rental!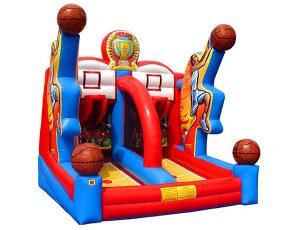 Our inflatable units are the best commercial products in the industry. They are uniquely designed, reliable, and they ENTERTAIN! Your guests will love your party and you will always get your money's worth!
We consider your event OUR event! Outdoor parties and events are our specialty and we provide the absolute BEST in product quality as well as service. It's what we do! We are here to make your event a tremendous success!
Our competitors charge up to 45% more for equal size or smaller units. Compare apples to apples as you shop. Many sizes and styles are available. Comparisons from one rental company to another can be confusing and we are here, seven days a week, to answer any questions you may have.
Choosing a party rental company can be a difficult decision. Our prices are listed on our website to save you time. Straight forward, no surprises! Rental price plus state surcharge of 7%, free delivery within 25 miles, a buck per mile OVER 25 (ex. 35miles, $10 delivery). Basic rentals are for 4 hours, additional hours are just $10 each, all day rentals, just $25 more.
Compare competitor Z's 13×13 bounce house at $160, tax and fees included, to K&G's 13×13 bounce house at $129 + 7% = $138.03. That's a $22 SAVINGS! You can be 45 miles away and we still beat $160, tax and fees included!
Or learn about our Package Value Pricing for renting multiple units!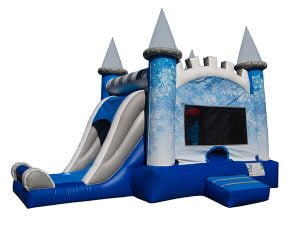 Our inventory includes premium quality commercial bounce house rental equipment. Each outdoor party equipment rental unit is selected based on quality of design and construction, reliability, and compliance with the most strict industry standards for SAFETY.
Kicks and Giggles inflatable moonwalk, giant slide, obstacle course, waterslide rentals are the best in quality, clean, safe, and fun!
Dad always said, "Son, you get what you pay for…" At Kicks and Giggles, we want you to feel your bouncehouse rental experience was more than worth your hard earned dollar! Our inflatable bouncehouses are premium commercial grade and professionally installed. We provide clear and honest pricing for your inflatable bouncehouse rentals. No hidden charges or fees. We offer fair and competitive prices on bouncehouse rentals to all of North Carolina. When shopping price, remember to compare similar unit sizes and configurations. Apples to apples, so to speak!
Basic Inflatable Rental fee includes:
4-hour Rental – While most outdoor party plans for kids last 2 to 4 hours, some events run a bit longer. Additional time for your rental is available at just $10 per additional hour. Make your rental an ALL-DAY party for just $25 more.
Installation, Operation Instruction, and Removal – The Delivery Fee for the first 25 miles is included in your inflatable bouncer rental price. For deliveries beyond 25 miles, we charge a buck a mile to help cover the extra expense. Example: A 40 mile delivery is 40-25=15 X $1 = $15 delivery.
Inspected and Insured Inflatable Equipment Rental – Signature Event Solutions, LLC follows accepted industry practices, inspects our units before and after each usage, and carries a $2,000,000 general liability policy. This policy allows us to use indoor facilities that require proof of insurance, such as local school systems and corporate organizations. We are happy to provide you with a certificate of insurance upon request.
ALWAYS ask for a certificate of insurance for your event! Enjoy peace of mind knowing the installation and performance of your unit is first rate, and fully insured.
Kicks and Giggles provides customers superior variety and selection of inflatable equipment rentals for kids party ideas. Each inflatable bouncehouse is uniquely designed and offered in multiple sizes. Many designs are available in multiple bounce/slide combo configurations as well! Customers choose the style that suits their kids party ideas, and we deliver the appropriate size inflatable bouncehouse or combo! No up sells to bigger blow up bounce rentals than you really need. We want you to come back!!
And we don't falsely "inflate" our inventory selection by offering the same C-4 bouncehouse rental with a differently themed banner attached to the front. For instance, if you are considering a Sponge Bob themed childrens birthday party rental, we recommend our Tropical series of bouncers, and suggest purchasing table covers, plates, napkins, and the cake to complete your theme! Why spend $40 more for a banner?
Real variety. Unique designs. Multiple sizes and styles. Kicks and Giggles is here for your kids party ideas!
WE DELIVER TO NORTH CAROLINA: Inflatable bouncers, Giant Slides, Outdoor Movie Screens, Water Slides, Slip and Slide Rentals, Fun House and Inflatable Moonwalk Rentals, Dunking Booths, Carnival Games, Inflatable Games and Interactive Equipment Rentals, Table and Chair Rentals, Audio Visual Equipment Rentals, Video Gaming Rentals, Concessions, and more!
When you call Kicks and Giggles Inflatable Equipment and Party Rentals, you will speak to a friendly and knowledgeable coordinator who will help you choose the most appropriate and affordable inflatable bounce equipment rentals for your outdoor kids party and entertaining needs.
We provide comprehensive service and reliable inflatable products that MOST suit your event planning needs.
On the day of your event, your bounce house party rental will be delivered by a trained and certified inflatable equipment technician. Our Staff member will introduce him or herself, survey your event location, install the inflatable equipment, and review safety policies and operation instructions with you. When your bounce house party rental is complete, we will return to remove our inflatable equipment. Dependable. ON TIME. Simple and easy!
We are happy to offer a Kicks and Giggles Event Staff Member to serve as a host and attendant for a reasonable fee ($19.95 per hour). Larger events of 50+ participants may require a Kicks and Giggles Event Host to manage multiple units. Enjoy the security of having a friendly and professional K&G Host on-site to maintain and supervise the operation of your inflatable equipment rental. Call us for further details.
Event date and time of party.
Location (Will you have sufficient room for the GIANT blow-up party bouncer?)
How many guests (riders) do you anticipate at your party? (this does not affect our price as some folks worry, but you don't want an inflatable rental too small or too big; it's a waste! We have what you need; Let's get it right!!)
What will be the predominant age of your guests? (Small kids take up less space, and won't need the biggest slide.)
Do you have a party theme in mind? While we don't rent a Batman Bounce House, we help you save money with clever ideas to accomplish your kids theme party ideas while you rent a big bouncy house that will fit your budget, AND light up your child's special day!
Power Source. We offer generator rentals if needed.
Attendant requirements. For smaller backyard parties, an adult will need to supervise play in the bounce equipment at all times. We are happy to provide professional event staff for larger events at an additional fee. Some large events will require a Kicks and Giggles Staff member to supervise the operation of multiple units and generators.
Rain date options. When planning ahead, you should definitely consider insuring your rental with a guaranteed rain date. For a nominal $20, you can secure another date on our calendar (subject to availability) for your rental in the event your first choice is cancelled due to weather. Your rental investment is insured! Other options include a backup indoor location. Our goal is for you to get your money's worth, and be thrilled to use Kicks and Giggles again. We will make every effort to help you.
Concessions options. We provide Cotton Candy, Popcorn, and Sno-Kone equipment rentals and supplies. Customize your rental by adding a concessions equipment rental!